With 'Happy Work, Happy Life' as the main axis, Wistron was awarded the Best Company to Work for in Asia Award
Wistron Hwa-Dong and Optical Plant was awarded "Best Companies to Work for in Asia 2022 " by "HR Asia" with "Happy Work, Happy Life" as the core axis. By encouraging employee Intelligently digital transformation, talent cultivation and development, actively fulfilling social responsibility. Wistron stands out from up to 295 among the participating companies. This award is a recognition to Wistron's commitment to creating a workplace environment that cares about colleagues in work-life balance.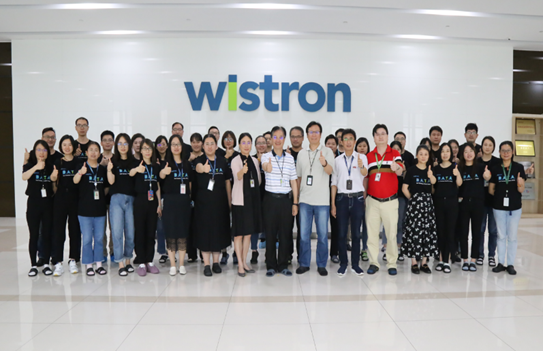 By promoting the "Intelligent and Digital Transformation" as the transformation strategy, Wistron comprehensively improves the intelligent level of the company in design, production, management, sales and service, thereby bringing great value to the company in terms of cost reduction and efficiency increase, energy saving and consumption reduction, product quality, product added value and other aspects.
At the same time, it has won the honors of "Global Lighthouse Factory", "Suzhou Smart Workshop" and "Suzhou Smart Factory".
Intelligent Manufacturing level four
According to GB/T39116-2020 "Maturity Mode of Intelligent Manufacturing Capability " and GB/T 39117-2020 " Maturity Assessment Method of Intelligent Manufacturing Capability ", Wistron has reached the fourth level of intelligent manufacturing capability maturity level.

We provide online and offline learning courses, introducing cloud training system and APP
platform, so that colleagues can learn independently and obtain the latest instructed skills.
Dual-Track Development Program
Wistron carries out training programs from the operation concept of senior management to the professional and technical developmental training for entry-level employees. We tailor different training programs, provide excellent employees with dual-track employee promotion channels combining technical and management positions, and lay a solid growth ladder for employees' careers.
Empower Employees of Personal Development
The company has set up professional training courses to help employees improving their academic qualifications and creates national qualification training courses to improve employees' own skills.

Deer City Charity Enterprise Award
Wistron has been adhering to the concept of giving back to the society, and promoting the sustainable development of the enterprise, and spares no effort to promote the healthy development of social welfare and charity. Do our
best to help the poor with public welfare, fraternity, and warmth. Awarded the "Deer City Charity Enterprise Award" in Kunshan consecutively.
Annual Scholarships and Bursaries
Wistron actively responds to the government's call for targeted poverty alleviation and donates high-quality teaching materials and scholarships of 300,000 yuan to schools in poverty-stricken areas every year to improve school conditions and help students realize their dreams of education.
Care for Female Employees
Protecting the rights and interests of female employees is an important function of the union, and the company has set up a "Carnation Care Station" for female employees to pay attention to women's physical and mental health and regularly conduct physical and psychological safety seminars to enhance health awareness. And won the title of "Kunshan Model Employee Small Home".