Awarded Best Company to Work for in Asia Award with "WiCare Enjoy the work"
Wistron Malaysia was awarded "Best Companies to Work for in Asia 2022 Award" hosted by HR Asia with "WiCare Enjoy the Work".
In the future, WMY will continue to move towards the goal of "Principal Hub 2.0" through community engagement, employee engagement, digital academy and digital transformation initiatives and structures, creating a work-life balance and career development that keeps pace with the times.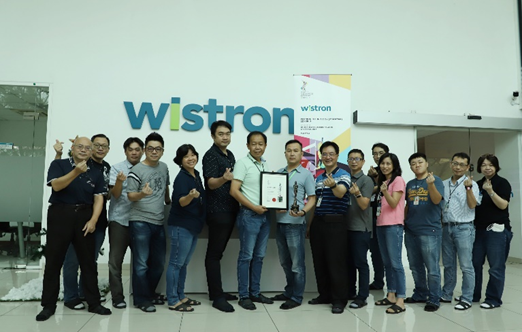 Wistron is committed to drive a more diverse and inclusive technology industry around the world. This goal includes gender, race/ethnicity, nation …etc, and we know that the work of creating an inclusive culture belongs to all of us. To be inspired to do their best work, our team members must feel seen, heard, valued and respected.
At Wistron, we increased representation of women in all job groups. 2021. Our aim is to see even more women thrive at Wistron and in our industry, and we're working to make that happen with extensive outreach, inclusive hiring, pay equity, advancement programs and more.
Promoting women leadership in technology is also essential for Wistron, we have 2 Female Deputy Plant Manager, and 1 Female Human Resource Director.
We provide a friendly and developmental working environment and welcome young people to join our team.

We strongly commit in creating a healthy professional environment where everyone can grow and thrive.
We always inspire and empower our employees in their career journey by offering best available benefits in the industry.
We provide f
lexible working hours, and mothers can spend more time with children. R
eserved parking for pregnant and well set-up breastfeeding room enable female colleagues comfortable to work in our environment.
Respect Cultural Diversity
Flexible working hours in Hari Raya Aidilfitri, reserved prayer room, and celebrating diversity festivals demonstrate our respect for cultural diversity.

Internal recruitment, hiring young talent, and fair recruitment practices make us welcome best talent, and embrace diversity, no matter race, gender, age, nationality.
From induction training to management development, we provide corresponding training and development program with internal and external resources. E-learning and in-person training will be adapted by the appropriate context.
Dual-track Development Program
Provide employees with dual-track employee promotion channels combining technical and management positions and lay a solid growth ladder for employees' careers.

Wistron Group collaborates with local secondary schools to organise industry seminars for students to illustrate the latest industry trends and in-demand skills.
Recruitment Programs in Rural Areas
Wistron is actively involved in Perkeso's nationwide recruitment program, particularly in rural areas. This reflects Wistron's commitment to provide employment opportunities for people of all backgrounds.
Solar (Green) Energy Program
The power generation facilities under construction are expected to generate approximately 1.2 million kilowatt-hours (103 ktoe) per annum, accounting for 1% of Malaysia's total residential and commercial energy consumption (7,774 ktoe) in 2018. (Suruhanjaya Tenaga, 2021).